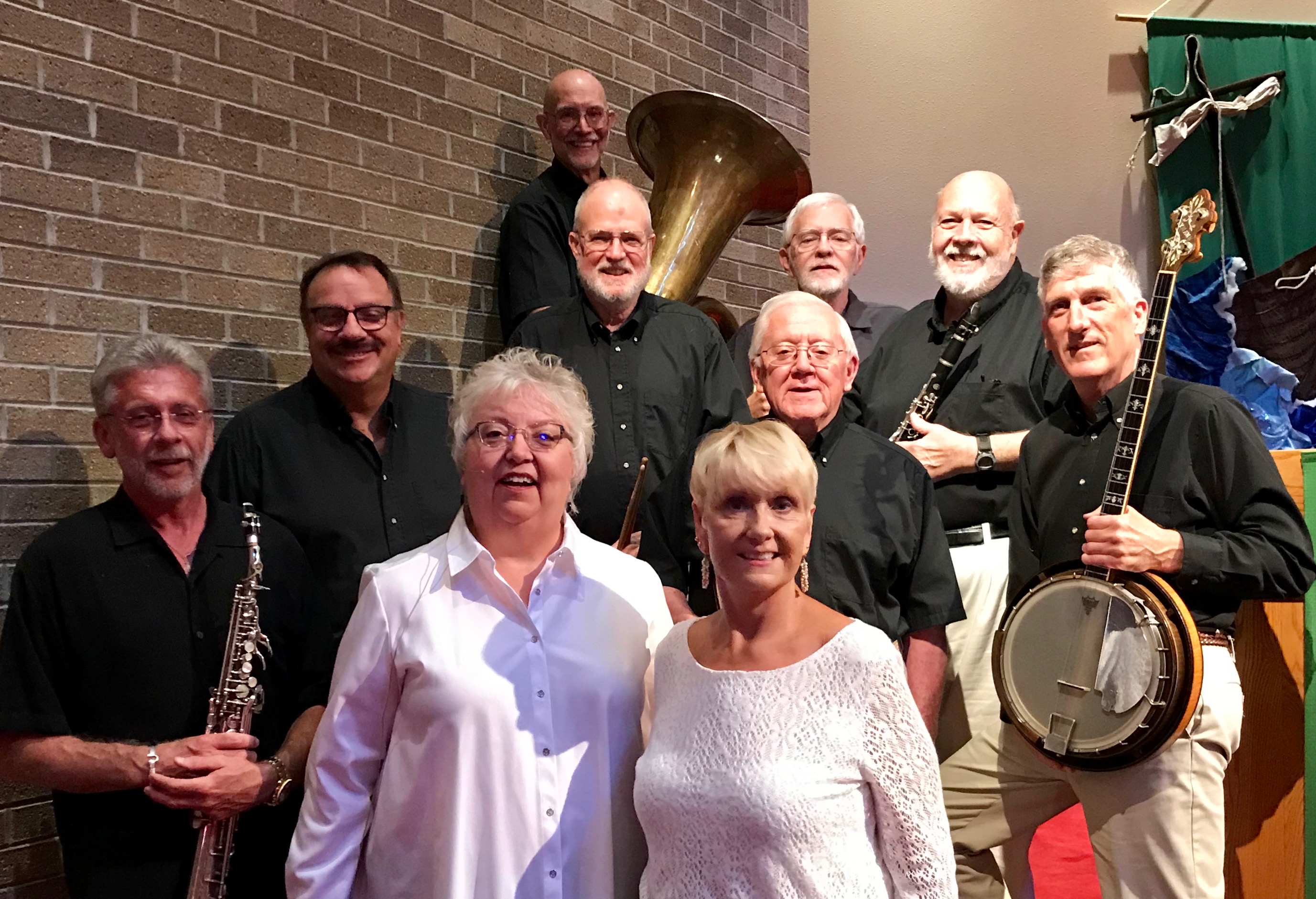 THE BACKROOM GANG
BEGAN IN A BAR, ENDED UP IN A CHURCH: THE STORY OF THE BACKROOM GANG THE BACKROOM GANG is a Dixieland Jazz band formed 50 years ago, in 1970, at The Abbey Pizza Parlor, on 14th Street (present home of the Eagles) in Traverse City. The pizza parlor had two rooms. The front room was more "family friendly" and did not serve any alcohol; the backroom was "friendlier to adults" and did serve alcohol. It does not take a genius to figure out where the band wanted to play, and they took their name from that Backroom. From 1971-76, they played mainly at "Little Caesars," and from 1976-1999, they played at Dill's Olde Time Saloon. They had to stop playing there when Dill's was sold and no longer had entertainment.
From 1998 to the present, their main gig is for five Wednesdays in the summer at the Presbyterian Church of Traverse City. They play at Dixieland Devotionals where they play all the hymns plus about a 25 minute concert.
All the offerings collected at these Dixieland Devotionals go to local charities, and over $160,000 has been donated to those charities during this time.
THE BACKROOM GANG MEMBERS:
BOB HICKS – CORNET
Bob has that strange ability to be able to read music that is actually written on a page! Of course, he likes to turn the music upside down when he plays it, and therefore often has very strange melody lines.
DOUG HANSEN – BANJO AND VOCALS
Doug is known for his way with the banjo…preferable FAR away! He just recently joined the band, and he has been questioning that decision ever since.
HAL FISHER – TUBA
Hal is one of our legitimate musicians. He has been known to play the entire 1812 Overture on his tuba underwater in Grand Traverse Bay. This is the real reason all the fish have left the Bay.
DON FROST – DRUMS/WASHBOARD
Don is our illegitimate musician. He is best known for beating ¾ rhythms with his right hand, 4/4 rhythms with his left hand, and hiccuping in 5/4 time. This is made more interesting as Don has no idea what rhythm is.
JIM ACKER - TROMBONE
Jim's interesting way of playing was inspired by something he found growing in the back of his refrigerator. Unfortunately, the County Health Department has condemned his entire kitchen, and we are not certain what he will sound like today.
FRED SZCZEPANSKI – PIANO & VOCALS
I won't say that Fred has been playing for a long time, but he started playing with some guy called Johann Sebastian Bach. He joined the Backroom Gang to play some legitimate music.
BILL BRAMER – CLARINET
Bill worked for many years "in the government" and is not allowed to tell us what he did. But we are pretty sure he was the "official coffee break taker" for some department there. He has added many interesting counter melodies to the band, which confused us at first as we didn't know what the real melody was.
CHRIS BICKLEY – SOPRANO SAX
Chris has joined the band on several occasions, and because he keeps forgetting how bad that experience was, he keeps coming back. At this time, he lives in Seattle, which makes his commute the longest in the band…by far!
JAN FISHER AND KERRY SECRIST
They have been singing with the band almost since its inception (they were three years old at that time). They add the element of true singing, which tends to be noticeably absent when they are not around.